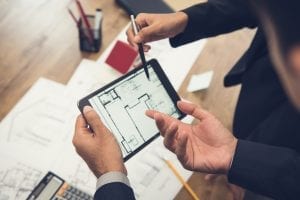 All companies and organizations have teams that play a part in their success. Some teams are universal, like Finance and HR, and some are industry-specific. An integral part of any construction management company is the Estimating Department. At CDO Group, our Estimating Department covers everything from proposals to finances to subcontractors. We touched base with Diana Figueredo from our Estimating Department to talk more about what they do for us here in the commercial construction industry.
With numerous construction projects to estimate daily, what does a typical day look like?
DF: There is no 'typical' day! Every day is different and we usually have about 6-8 projects on the table at a time. We are in constant contact with subcontractors from all the trades, and I specifically handle all the carpentry sub-contractors. Usually, a project comes in from business development and we go from there studying the plans, requirements, and the overall scope of work. After that we will send an invitation to bid on the project to our subcontractors. They send back questions and ideas, and after a little bit of back and forth, we try to get the most accurate quote. Our team will follow up on proposals and help with any bid preparation that we can, making sure there are no missing pieces. We are very on top of it!
What are your best practices for staying on top of projects?
DF: Time management and staying on top of our correspondence are so important. We make lots of lists, including lists of outstanding items that we use to keep track of every aspect of the project, and we keep clear calendars with due dates. We try to keep all projects on our radar each day so that we don't lose track of any communication. We are able to adjust our timelines and go with the flow based on each client's communication with us.
What do you feel is the most important role of the estimating team in CDO Group's success? What is the value that your team provides CDO Group?
DF: Business development is the very important first phase CDO Group goes through and has with the client, but our team is the one that puts a number on the project. We try to get the best deals from the subcontractors and get as accurate an estimate as possible.
What are the characteristics of a successful Estimating team?
DF: Teamwork, as cliche as it sounds! But it takes many people on a team to have a good understanding of the project and of the plans. We ask each other and our subcontractors as many questions as possible so there is 100% clarity on the project. We must know all the needs of the clients and the scope of work. With full comprehension of what is expected of CDO Group, we can do the best job.
CDO Group's estimating team is made up of 8 members, all the way from Chief Estimator to interns. Find out more about CDO Group and how we work together here.