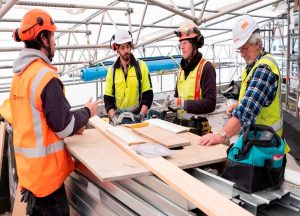 Healthy workers are productive workers and so less likely to call in sick. In the past two years, there has been a great deal of focus on employee health on the job. Healthy employees are more productive as they are less likely to work sick and more likely to work the entire shift. Here are five sustainable habits that can be reinforced with a construction team to make them productive.
Hydration
Dehydration can reduce construction workers' productivity. Some studies suggest that a 3-4% change in hydration can result in a 25-50% drop in cognitive productivity. Contractors must make provision for water on-site and provide water coolers, especially during hot weather periods.
Healthy foods
Eating fast food may be convenient, but it does not encourage anyone to be more productive at work or control their weight. Construction workers should be encouraged to opt for healthy lunch choices, promoting maximum job performance and employee well-being. There is also room for a significant discussion in construction meetings or safety talks to emphasize the importance of health-focused foods for construction workers.
Exercise
Large equipment operators in construction spend most of their day sitting or performing sedentary tasks. By exercising regularly, these operators can stay healthy and avoid minor injuries. Contractors can facilitate offering a lower-cost gym membership plan or other financial incentives to encourage employees to exercise more often.
Enough rest and sleep
A lack of sleep can lead to many health problems. It essential to incorporate a good resting schedule at work. It is impossible to control construction employees' sleep habits, but a plan can encourage healthy ones that keep them performing at their best. Construction work is demanding. The long days, double-shifts, and other scheduling factors can make it difficult for employees to recover from work. Proper rest is essential to workers' health, and making sure that employees are getting enough will benefit them and boost job site productivity.
Basic personal hygiene
One idea for contractors is investing in a mobile hand-washing station that can be placed in strategic locations throughout the worksite. And there should be sanitizer available to wipe hands.
Ultimately, it is up to each individual to maintain healthy habits that nurture their bodies; however, it is the construction employer's responsibility to ensure that positive patterns are formed across the corporate culture. Those positive behaviors are recognized and rewarded. For both the employer's and the employee's sake, everyone wins when the construction worker is in good health.