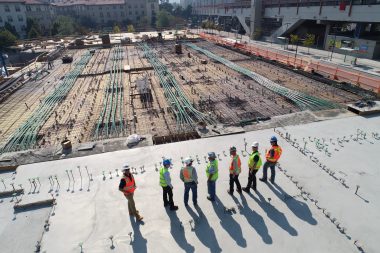 Completing a successful construction project requires a seamless network of interconnected processes. From on-site to the office, maintaining optimum connectivity, collaboration, and communication is easier said than done. But given the challenges of construction project management, is it worthwhile to outsource it? Or should expanding companies stick to those who have a comprehensive understanding of your business specifics?
In the battle of outsourcing construction versus in-house construction, let us see who wins the clash.
What are in-house and outsourced developments?
Before comparing the pros and cons, it's important to first differentiate between the two approaches. In-house development involves relying on your employed team to work on a project under your full control. People who work "inside the house" come together as an internal team designated on the job to its completion.
On the other hand, outsourced development of a project steers it out of the company's tight control and into the hands of experts. Outsourcers simplify their efforts using streamlined development of their projects optimized to completion. Third-party providers are employed to get the job done.
While either technique sounds pleasant to the ears, certain advantages and drawbacks are associated with each method. Now able to distinguish between both strategies, let's explore the pros and cons of each method of development.
Advantages of in-house development
   1. Foolproof control over projects
Of course, in-house developers are employees of the same company and provide day-to-day progress of the project. Project managers can track daily workings on-site as the internal team handle the construction. If there are any ups and downs or stumbling blocks, the project manager can react promptly.
Similarly, since there is no third-party inclusion, there's a greater sense of security. Construction companies can keep their valuable know-how, inside data, and skill-set intact without any plausible leakage.
   2. Low involvement in customer's business
Internal teams handling a commercial construction project would know all about your customers' business and industry-relevant to project completion. Having worked and dealt with your customers, they do not need much time and effort to grasp the project's specifications. This can save up on the time and energy spent on explaining an otherwise third-party provider.
    3. Unlimited post-delivery support
In-house development gives you the edge to provide unlimited support after the project is completed. With your internal team still in-house and dedicated, you have the opportunity to win the favor of your clients by providing further maintenance, repairs, and updates.
Drawbacks of in-house development
     1. Associated unavoidable expenses
Employing an internal team to your project comes with associated costs that may diminish the profit. Whether your HR is hiring an architect from within the company or assembling the team, you must pay their expenses. This includes taxes, insurance, and above all, the training expenditure. Instead of thinking to have saved money, construction project managers often end up losing more.
     2. Limited expertise
As a project unfolds, you might need additional competencies on-site to maintain the speed of development. By using an in-house team to handle a project, you are limiting the capacity of expertise. It is unnatural to gather all roles and skills in your internal team, which brings us to bear the training costs. A project might need an expeditor's skills throughout the process, which you may not find readily available. While this is an additional investment on your part, it ultimately slows down the speed of completion.
Advantages of outsourced development
     1. Industry-best experts
Outsourcing construction contractors bring in a wealth of knowledge and expertise on-site. Instead of learning on your dime, they are seasoned contractors equipped with industry-wide experiences. By bringing in experts, you are buying premium speed, equipment skills, and required expertise to bridge all efficiency gaps.
They are a complete package with diverse experience across multiple industries to endorse their long resumes. Ideally, they will require no additional time or effort to complete your project using their best practices. Outsourcing construction projects is a prime example of streamlined development, improved to efficiency as if through automation.
    2. Fresh perspective
Outsourcing commercial projects can save companies capital and time, allowing them to allocate their resources to operations while their construction is performed on their behalf. It is a no-brainer that you will get a narrow, restricted focus on the project with an internal team. However, outsourced contractors are a new pair of eyes that have industry-wide experience. This brings fresher perspectives, a broader focus, and means to optimize efficiencies in ways you didn't think of before.
     3. Cost-effective
Albeit the common notion, hiring an outsourced construction team might help you save money more than a traditional approach. Be it part-time management or full-time, contractors work on a per-hourly basis. That means you are billed only for the working hours. Moreover, there are no additional expenses as mentioned earlier, besides whatever quote you agree upon.
Within the agreed budget, you will get the best deal for your money in the form of the workforce, software tools, and technology. From architects to problem-solver techs, a construction contractor has an established network that irons out the way as the project develops. Ultimately, you will receive a turnkey construction model developed as per your specifications.
Drawbacks of outsourced development
However, despite how expert outsourced construction contractors are, bringing in a third-party ultimately loosens your control over the project. This may be an arguable point, but outsourcing development's primary pitfall is transferring the fundamental responsibility to the contractor. The process becomes less transparent and can put the vendor's performance in question.
So, who wins?
At the bottom line, construction companies centralize on opting for the method that maximizes project efficiency and minimizes the potential risks. Through whichever strategy they find achievable, it is only natural that they would lean towards it. More often, companies tend to lean towards outsourcing contractors, mainly due to their expertise and cost-effectiveness. As experienced professionals, they know precisely what needs to be done and how it can be done most efficiently.