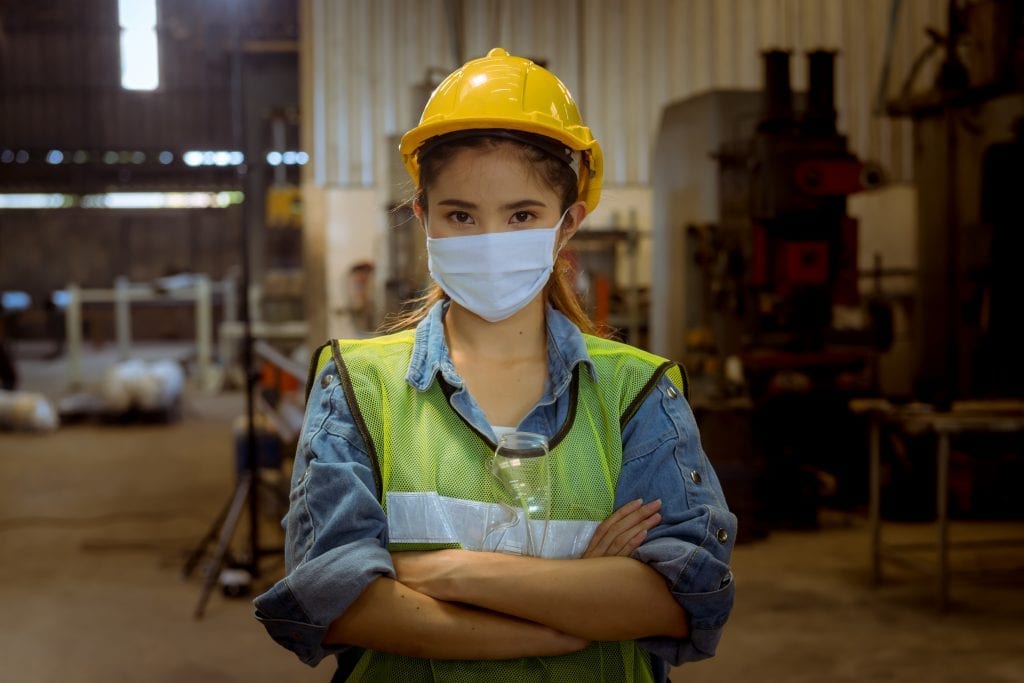 COVID-19 has changed the way we live. From shutting down businesses and construction sites to practicing social distancing, all industries and families have been affected in some way.
Many are wondering what life will be like post-pandemic. Business owners and construction project managers alike are planning ahead to adapt to new safety precautions, whether that be incorporating hands-free technology, or uprooting standard operations procedures.
To understand the safety precautions that will emerge in the construction industry, we went directly to the expert. Brian Garver, our Director of Construction, shared his best insights on how the pandemic will impact safety on currently-open and newly-reopened sites.
How has COVID-19 affected the way you see safety on construction sites?
Adapting to COVID-19 has been a big obstacle. We now have to ask our Superintendents to manage not only from a distance, but also manage health and welfare on sites during/post-pandemic.
Maintaining social distancing for projects that are still running has also been a challenge. When working on site with a team, attempting to stay six feet apart is nearly impossible, especially when it comes to manual labor. We've adapted additional precautions, such as the use of gloves and face masks, as well as access to hand sanitizer and handwashing stations.
We're hoping that COVID-19 will remind our construction managers the importance of on-site safety, outside of regular hand-washing. We believe that there will be a closer eye on maintaining standard safety procedures moving forward.
What will construction managers have to pay attention to that they might not have had to before COVID-19?
Amid the crisis, Superintendents are looking more closely for visual signs of workers being sick. They are actively asking their team how they are feeling, if they have temperatures, or if they are experiencing any shortness of breath while on site.
They are also ensuring no more than 10 people are housed within confined spaces. Construction managers need to have proper handwashing stations onsite, something that wasn't regulated as much before. They are also looking towards CDO Group's shift stacking protocols to get as much work done in a time frame as possible to limit exposure.
How is CDO changing their on-site safety measures once construction projects resume?
Until there is a vaccine, CDO Group is taking as many preventative measures as possible. These include additional handwashing and hand sanitizing stations at each site. This also includes dealing with Foremen only and limiting personnel in construction trailers.
CDO Group is also adapting to shift stacking, as mentioned before, so that all subs are not on-site at the same time. Shift stacking is something we are continuously adapting, and have found it to be successful in preventing disease and saving time on projects.
How will this affect how you draw up contracts and project plans once construction practices resume?
Costs will increase due to the need for extra hand washing and hand sanitizing stations. Materials will also be on backlog due to the mass-resume of projects. There will also be a need for additional workers to keep projects on track, which will drive up cost.
We will make it a priority to be transparent with clients throughout the pause on where projects are and the timeline for completion once business gets back to normal.
What potential issues do you foresee in implementing new safety procedures? How will you handle them?
After the crisis has subsided, we will focus on implementing the new-age of safety procedures and stick to them. To handle these obstacles, we plan to have the proper medical training, be diligent with handwashing guidelines, keep in line with social distancing practices, and combat illness with continued safety training.
Here at CDO Group, we're doing what we can to adapt to the new safety procedures that have come up as a result of COVID-19, and our Director of Construction has been a key implementer of these new procedures. Moving forward, we are hopeful that our teams will spot signs of illness and be able to combat them with the proper safety precautions.
Contact us if you're interested in learning more about our best tips for safety adoption on-site post COVID-19.